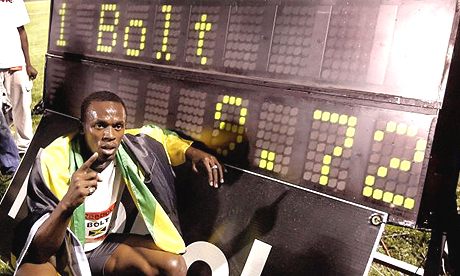 I have just read an interview with Usain Bolt. I was expecting the normal stuff - you know, growing up in a small Jamaican town, being taller than anyone else, how he could ease up before crossing the line in the Olympic 100m final and still pulverize the rest of the field. That kind of stuff.
So imagine my surprise, when in response to the question 'who were your heroes when you were young?', Usain says 'Waqar Younis'. Yes, former Pakistani quick bowler and sometime inventor of reverse swing, Waqar Younis. Not Carl Lewis or Asafa Powell or Merlene Ottey or even Courtney Walsh. The man who meant most to Usain Bolt growing up was Waqar Younis.
Amongst all the PR guff and bland, sponsored chat that make up most interviews with sporting stars, (it must be said that Usain Bolt is apparently 'a Gatorade* athlete', whatever that means), revelations like this make up for a lot.
*the world's most researched sports drink